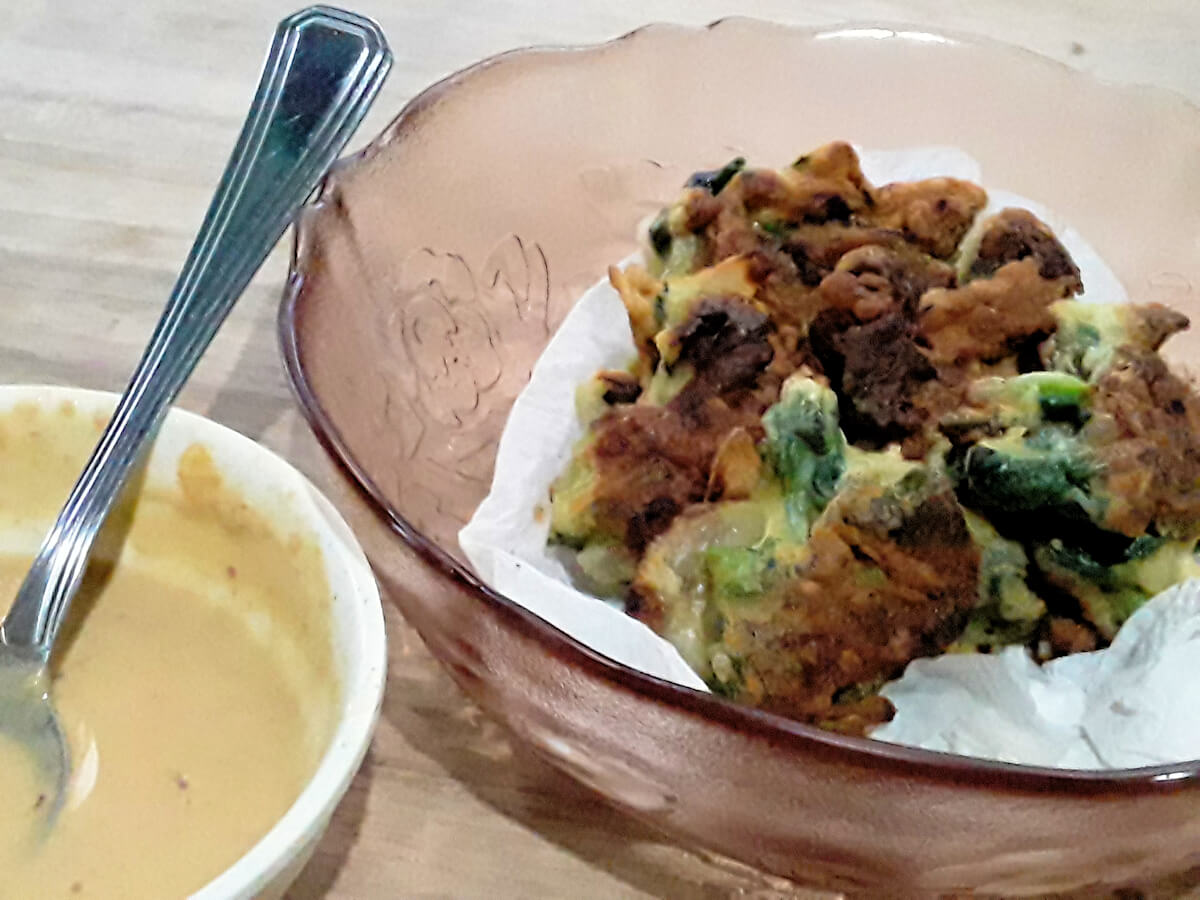 Eating More Greens
The other day when I opened by box of organic vegetables, I noticed the greens of the radishes and beets were perfect and fresh. I decided to try a new recipe to highlight these lovely leaves.
In Greek cooking there are many recipes which can be used with any greens you can find – in the wild, in the supermarket or in your garden. The famous Greek Spinach Cheese Pie is a modernization of the more traditional hortopita – meaning wild greens pie. During difficult times, many Greek people survived on foods that they found in the wild. Now we must eat greens for a different reason – because our bodies need them to be healthy!
When using wild greens, the most important is avoiding poisonous plants. If you are not sure, try some of the greens sold at your vegetable market – kale, arugula, dandelions, even spinach. Stronger flavored leaves like radish or arugula, as well as mixing different types of leaves, will make a more flavorful fritter, but some may prefer a milder taste. As well with the onions and spices, you can add more or less to suite yourself.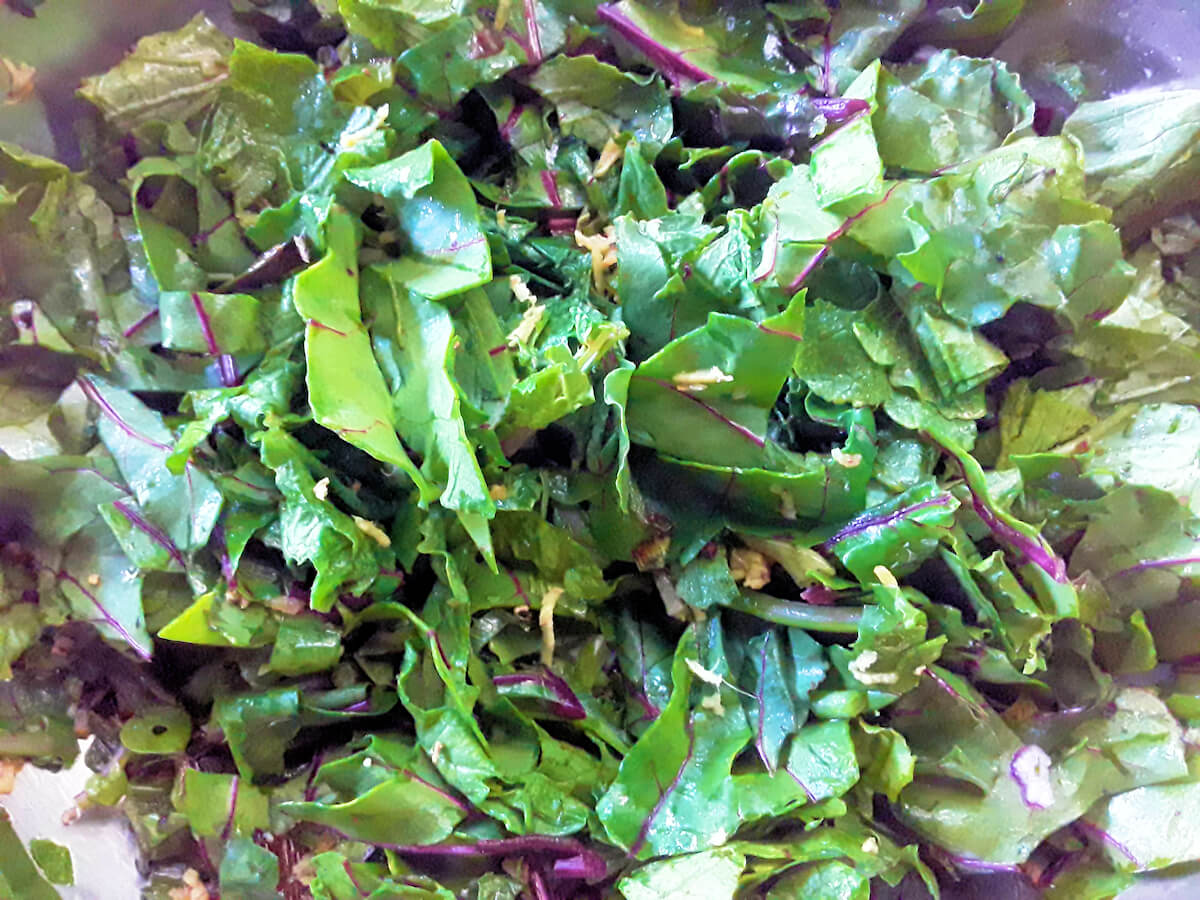 Start with around 4 ounces of greens. Wash them well and chop them up. Set them aside.
Heat a large pot add:
1/4 cup olive oil
1 finely chopped onion
1 teaspoon salt
Stir the onions until they become clear in color. Then add
Stir the greens in, cover with a tight lid, and remove the pot from the stove.
Let this mix cool for about fifteen minutes.
Stir the contents of the pot, then stir in:
1 large egg, beaten
1/8 cup chopped scallion
1/8 teaspoon black pepper
1 tablespoon grated fresh ginger & 1 teaspoon dried thyme
OR
1 tablespoon chopped dill & 1 teaspoon dried oregano
In a small bowl, mix well:
1 cup flour
1 teaspoon baking powder
Add the flour mix to the pot and stir only until there are no more clumps of flour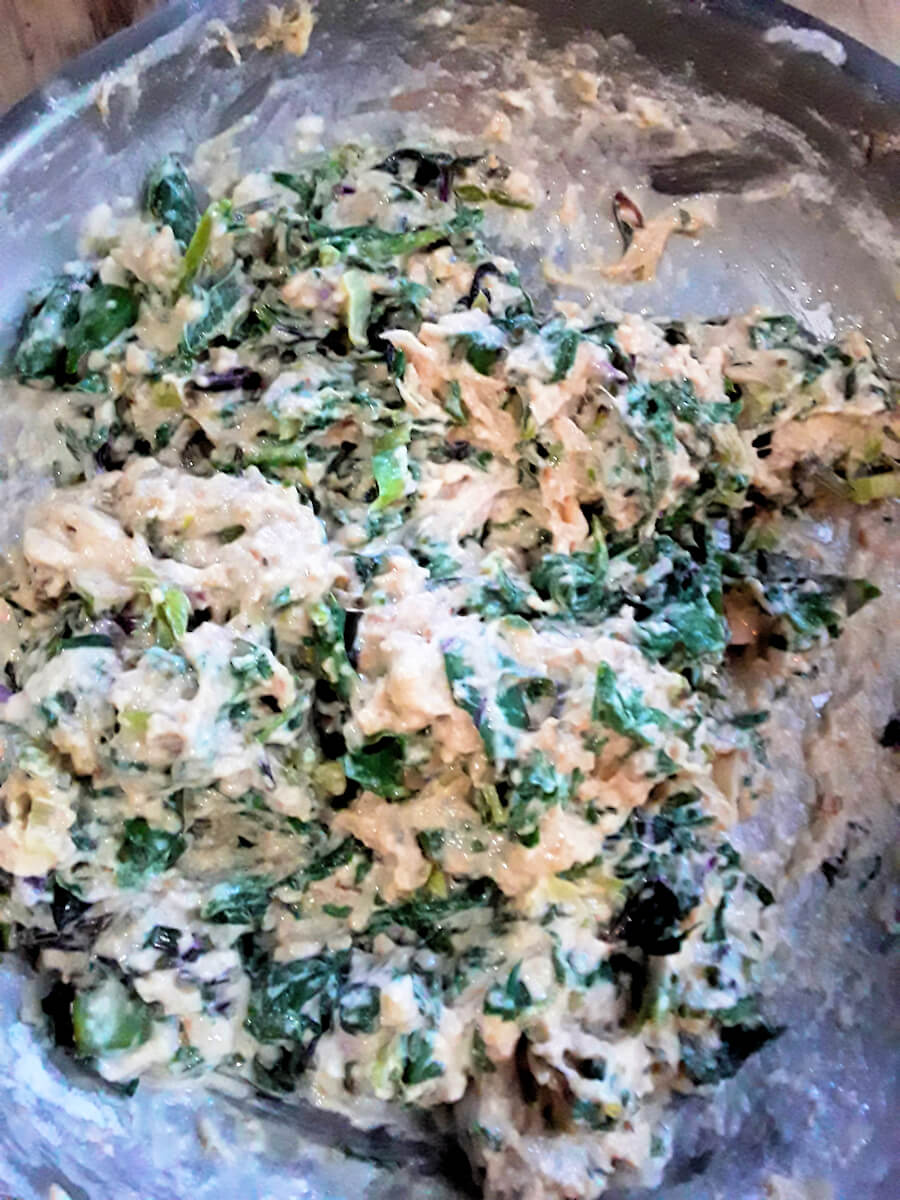 Heat a large frying pan on medium high. When it is hot, add:
Drop spoonfuls of the batter into the hot oil. After about 3 – 5 minutes, check the under side of the fritter. When it has browned, turn it over and repeat.
Place the cooked fritters on a paper toweled plate.
Serve your wild greens fritters warm with a light sauce such as lemon tahini, spicy mayonnaise or our delicious pesto sauce.